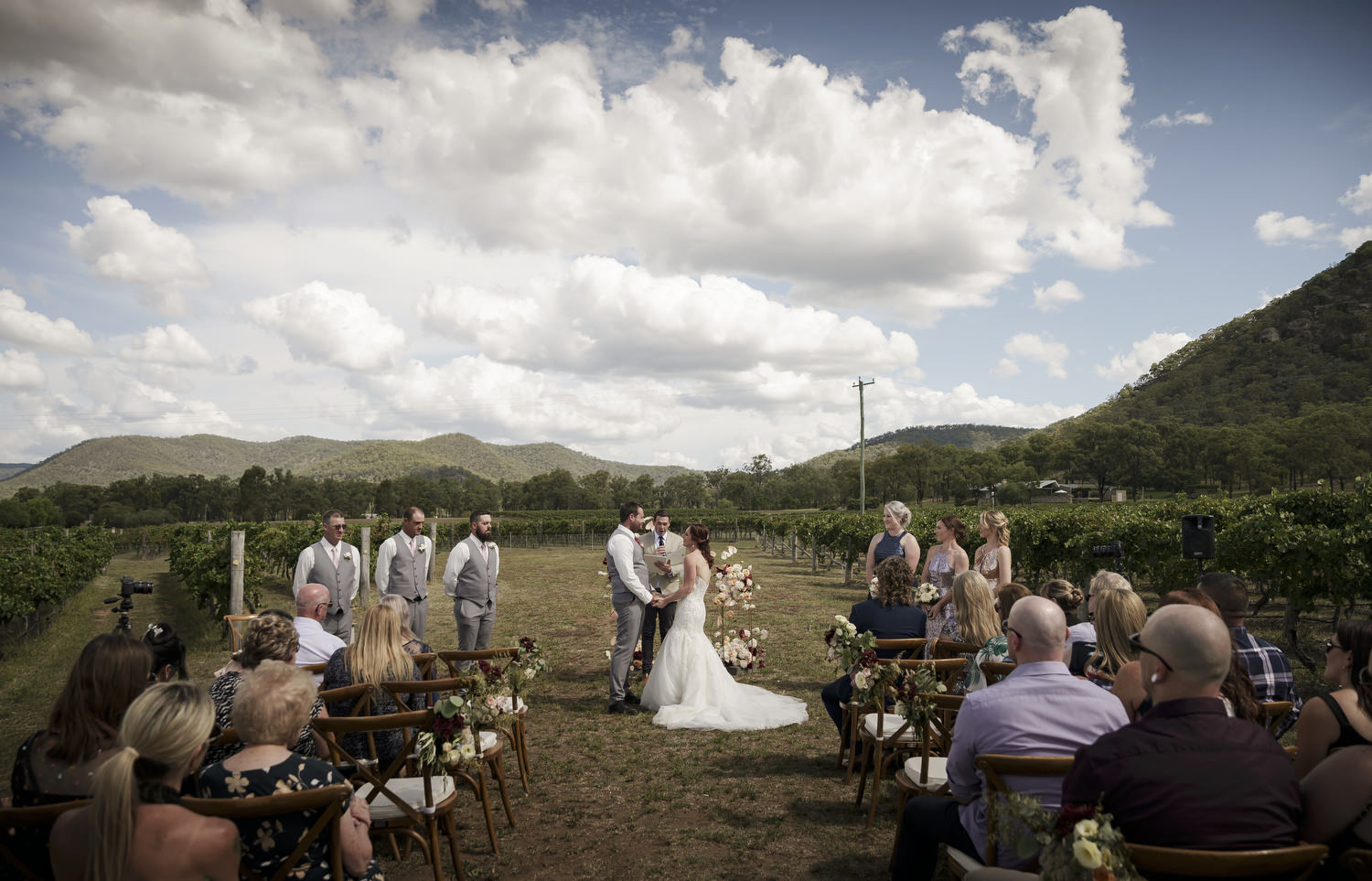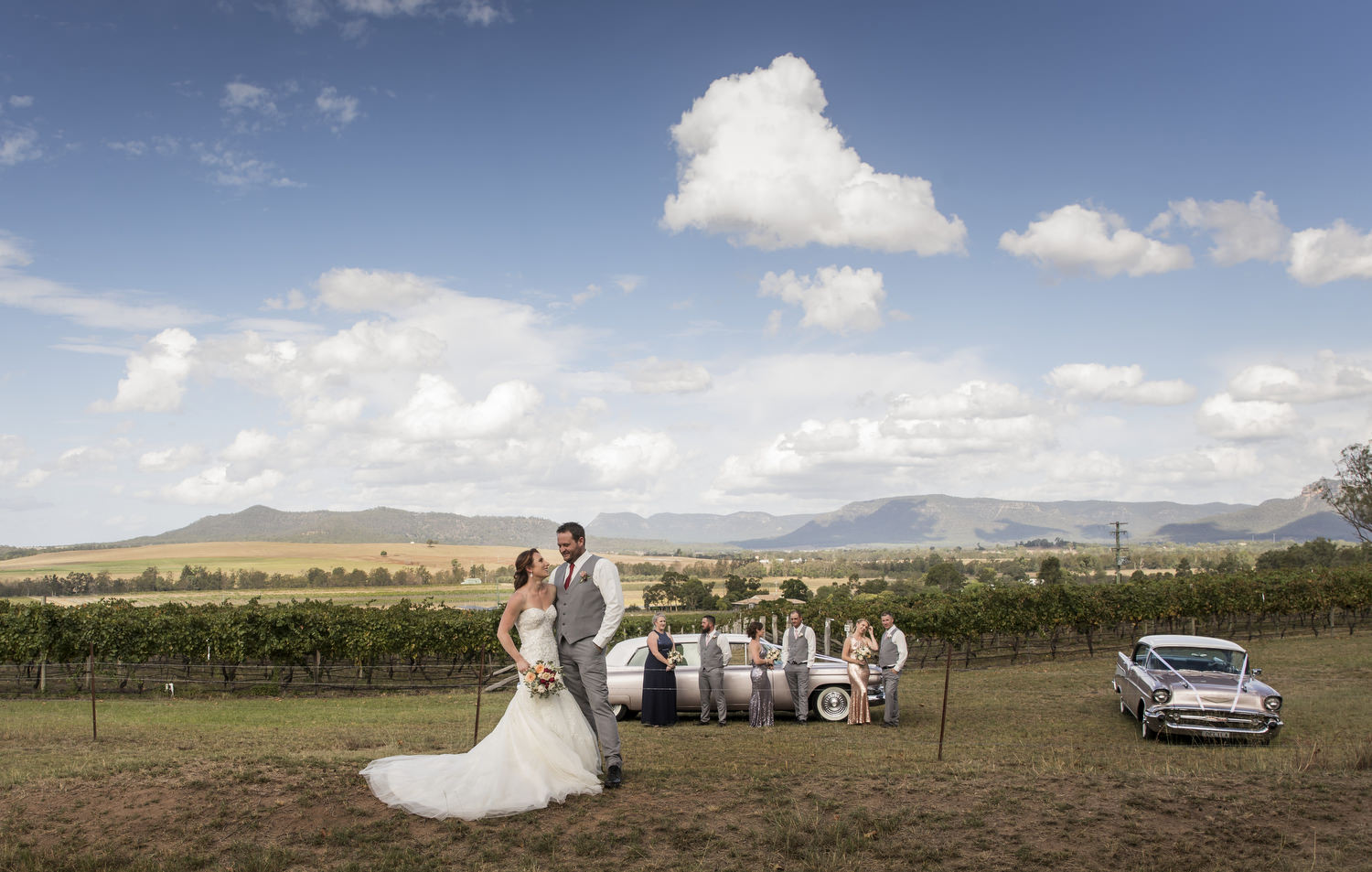 Click on image to go through to gallery
Emily & Jay
Tell us about your Photographer / photos
Thierry made the whole process fun and easy. I loved his approach to getting the job done efficiently and with a lot of laughs. I'm very self conscious so feeling comfortable being photographed is a huge thing for me. Thierry made me feel comfortable and confident in being photographed and he gave clear direction on how and why we'd get the best out of our photos.
Ceremony Venue
Catherinvale Wines
Reception Venue
Margan Family Wines
Catering
Margan Family Wines
Celebrant
Anthony Burke- Hunter Celebrant
Theming and Event hire
The Wedding Designer
Transport
Dollface Garage
Flowers
The Wedding Designer
Wedding cake
Euro Patisserie
Wedding gown
Newcastle Br8dal House
Bridesmaid Dresses
Sue's at Rutherford
Suits
Ken Lane Menswear
Wedding engagement rings
Peter O'Neil Family Jewellers - Cessnock
Hair and Make up
Lisa Single Makeup Artistry
Entertainment
Silent Shout Entertainment
How did you meet?
We met at work on Emily's first day. Jay thought she had a nice bum, so he asked her out for dinner.
How did he/she propose?'
Jay proposed on a rooftop in Melbourne with a private live band, surprise photographer, flowers, candles and a beautiful emerald and diamond engagement ring!
Tell us about the wedding dress?
Emily didn't want any lace at all. She chose the most beaded and blingiest dress in the shop and the mermaid with the sweetheart neck was what she wanted. She fell in love with the sheer back and how sparkly the dress was. It was the fourth dress she tried and instantly fell in love with it.
Tell us about the ceremony?
We wanted an outdoor wedding that wasn't a typical place where everyone else gets married . We wanted to avoid the high tourist areas and have a private, laid back ceremony, which is exactly what Catherin vale offered. We had the best of everything. A wonderful outlook on the farms and Broke mountains, the vineyards and greenery. The whole ceremony was perfect. The Wedding Designer really made the best use of the space and decorated it as we envisioned.
Tell us about the reception?
Wow! The barrel room at Margan's was the star of the show! We could not believe the room we saw the day before was transformed into such a luxurious ,elegant show stopper! The florals, greenery, decor and lighting were more than we dreamed of. We could not have done this without the Wedding Designer. The the service from the staff at Margan's was beyond excellent. We could not have chosen a better venue and honestly, the cost was very reasonable for the amazing food and service we received. All our guests complimented us on the venue, food and decor!
What was the most memorable moment?
The whole day, of course, but seeing each other for the first time that day and exchanging vows would be top.
Please list the menu and meal details:
Entree - beetroot and goats cheese and Pork Belly Main - poached chicken and lamb shoulder with greens and crunchy potatoes Dessert was our Cake - butterscotch brittle from Euro Patisserie
Songs played (walking down the aisle, leaving ceremony, first dance etc)?
Aisle- Bridesmaids- "Patience" by Guns n Roses Bride walk - "Only to be with You" by Roachford Leaving Ceremony - "Peaceful Easy Feeling" by Eagles Entrance to Reception "I Wanna Rock and Roll All Night" by Kiss Cake cutting "Sweet Home Alabama" Lynyrd Skynyrd
Did you have a budget and were you able to stick to it?
Truthfully, we had an "ideal" budget but when we spent more than this, we weren't surprised. We just made it happen. We didn't take out any loans or put ourselves in debt. At the end of the day, it was our day, our decision and it was perfect. What we paid was worth it and we wouldn't change a thing.
What was your colour theme and colour palette if applicable?
We didn't have a true colour theme. Emily's favourite four is red, so there's hints of this in the florals, her makeup and shoes. The bridesmaids wore a different colour dress each - rose gold, lavender and midnight blue - but all dresses were sequinned metallics which again, echoed in the florals and decor.
What was the total cost of your wedding (excluding honeymoon)?
Honestly, we couldn't really say the exact dollar value. Definitely more than $30k. But again, we have zero regrets and paying a bit extra to have The Wedding Designer set up and pack down and organise everything from florals, to decor to loading with others made the day stress free and it didn't go fast at all!
What did you do for your Hens & Bucks Parties?
We are boring! Nothing! Hahaha
Where did/will you go on your Honeymoon
We've put our main honeymoon to Europe off until next year. We had a very fun week in Thailand for just after our wedding as our mini honeymoon. Can't wait to go back there again!
Any other details that you would like to provide or funny / interesting stories about how you met or happenings on the wedding day.
We wouldn't have changed a thing. Although air conditioning in the cars would have made it a lot more comfortable! We are so glad we had the team from The Wedding Designer to set up and pack down. I remember everyone saying the day would fly by, but for us it didn't because we were able to relax and enjoy it, not stressing about who has the flowers, how many tables, where's this person's place card...oh gosh, no way!!! My advice to any bride is don't DIY because the day is about YOU! I have to say though, we had the best of all vendors and putting all those t talents together made it one amazing day! Seeing talent and unparalleled suppliers come together as one big team left everyone in awe! We are so grateful!