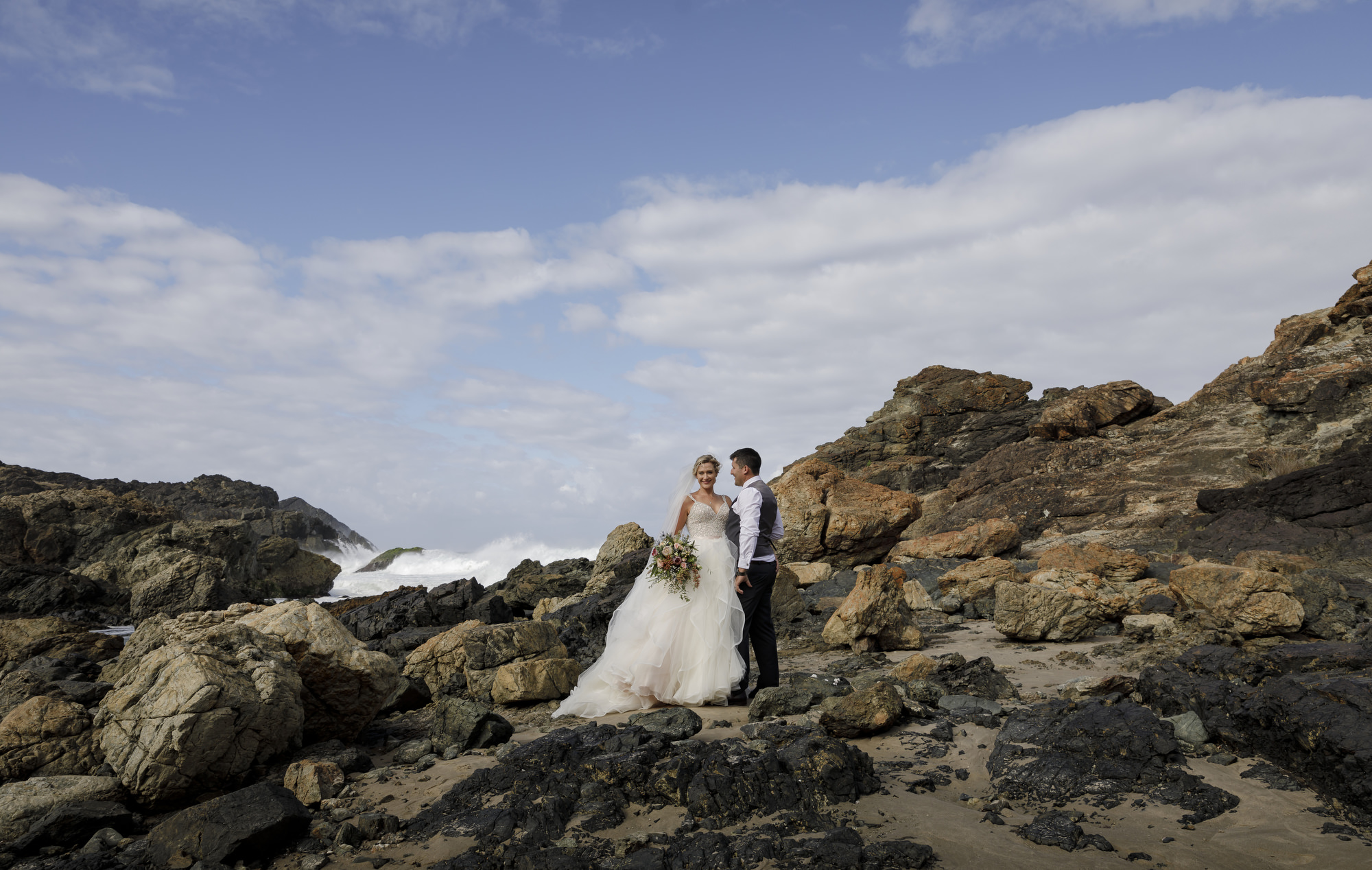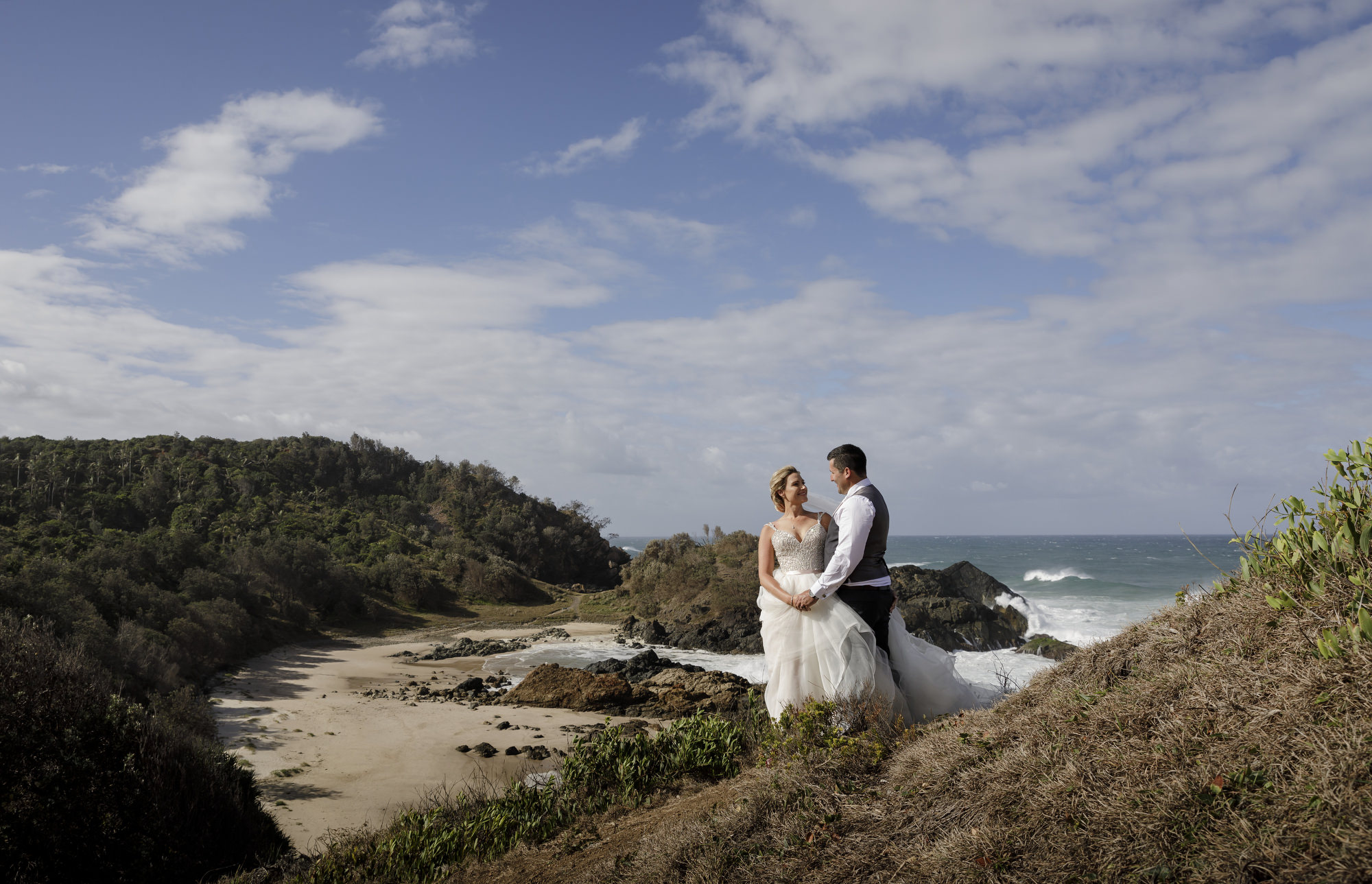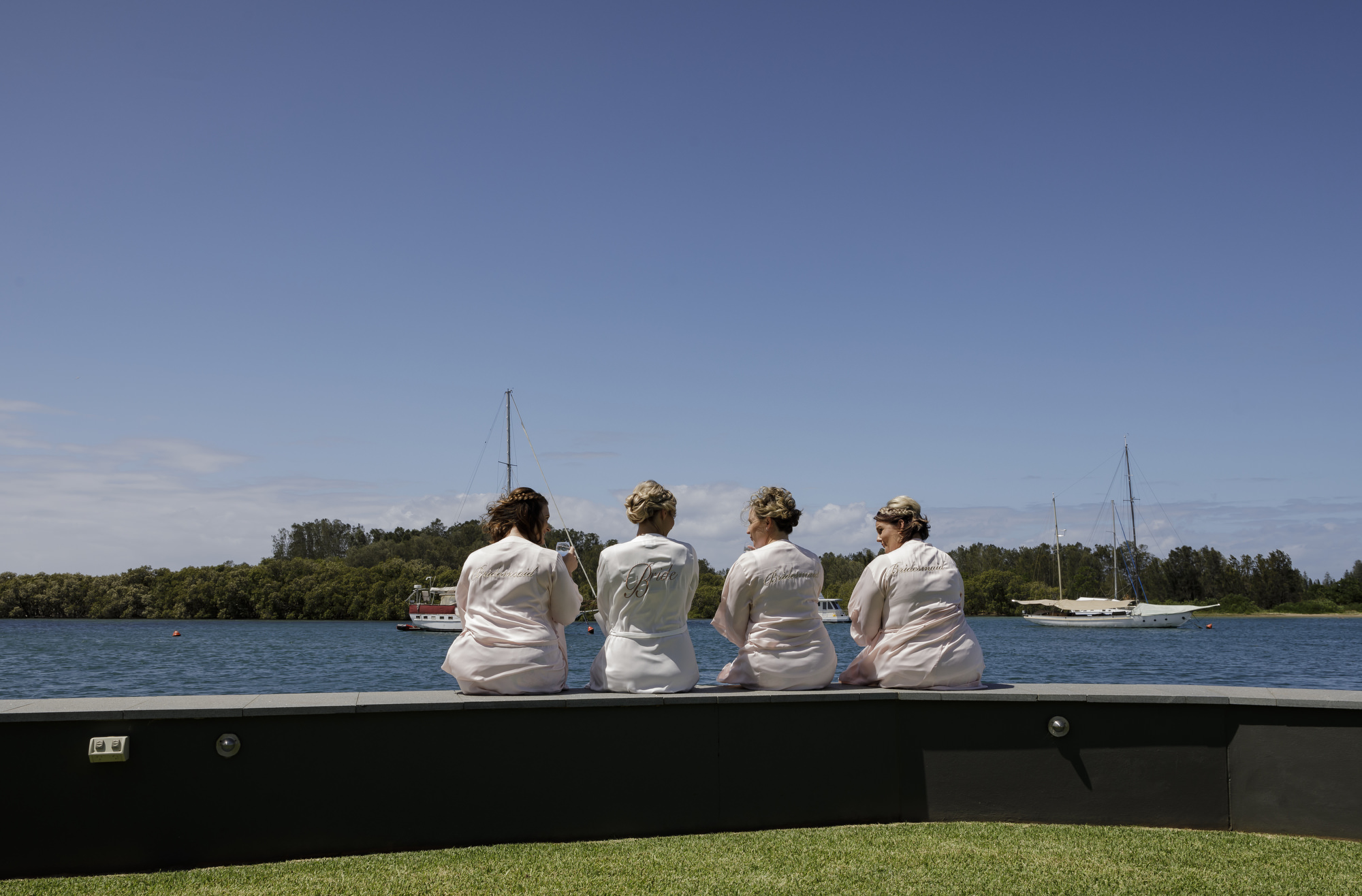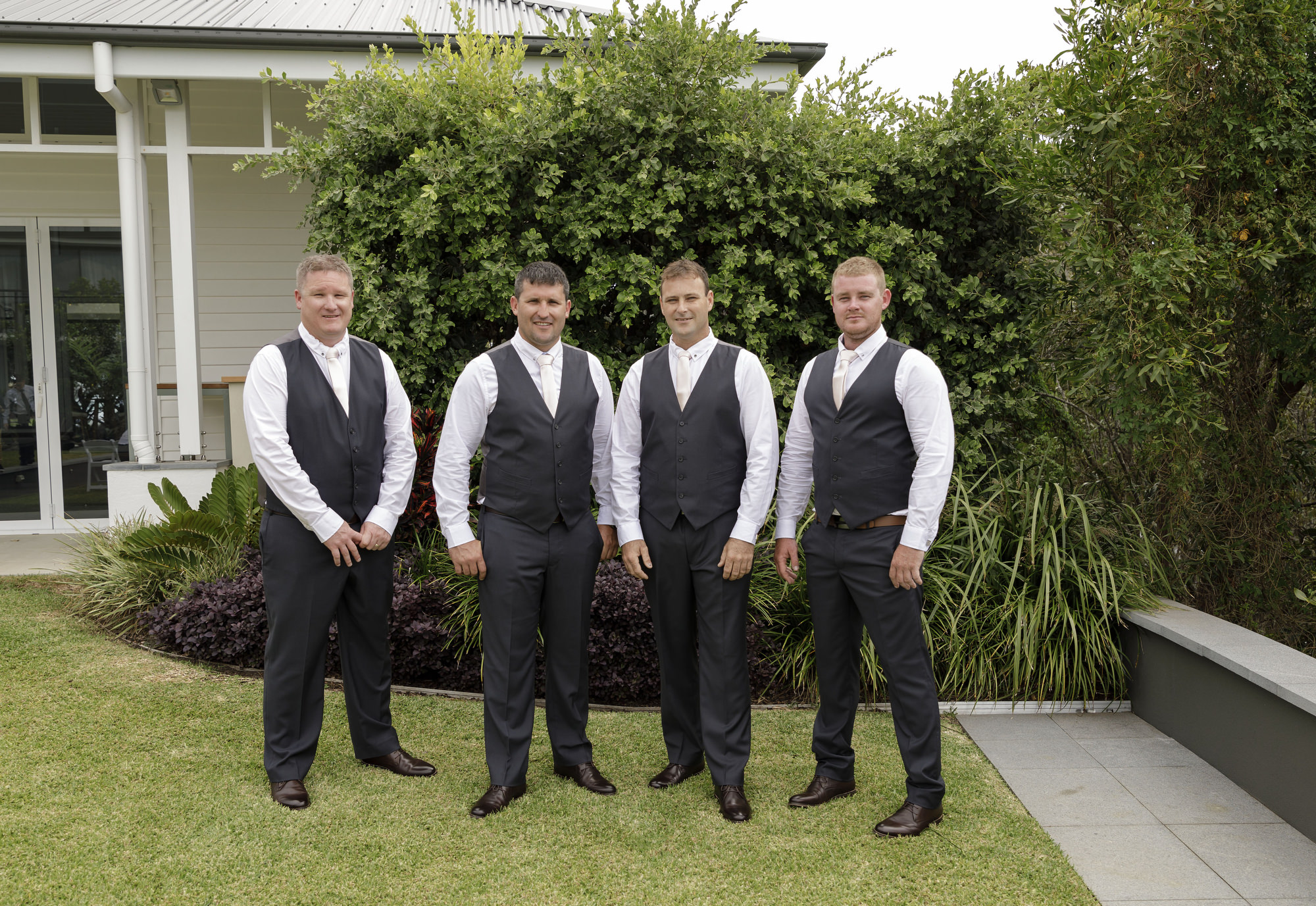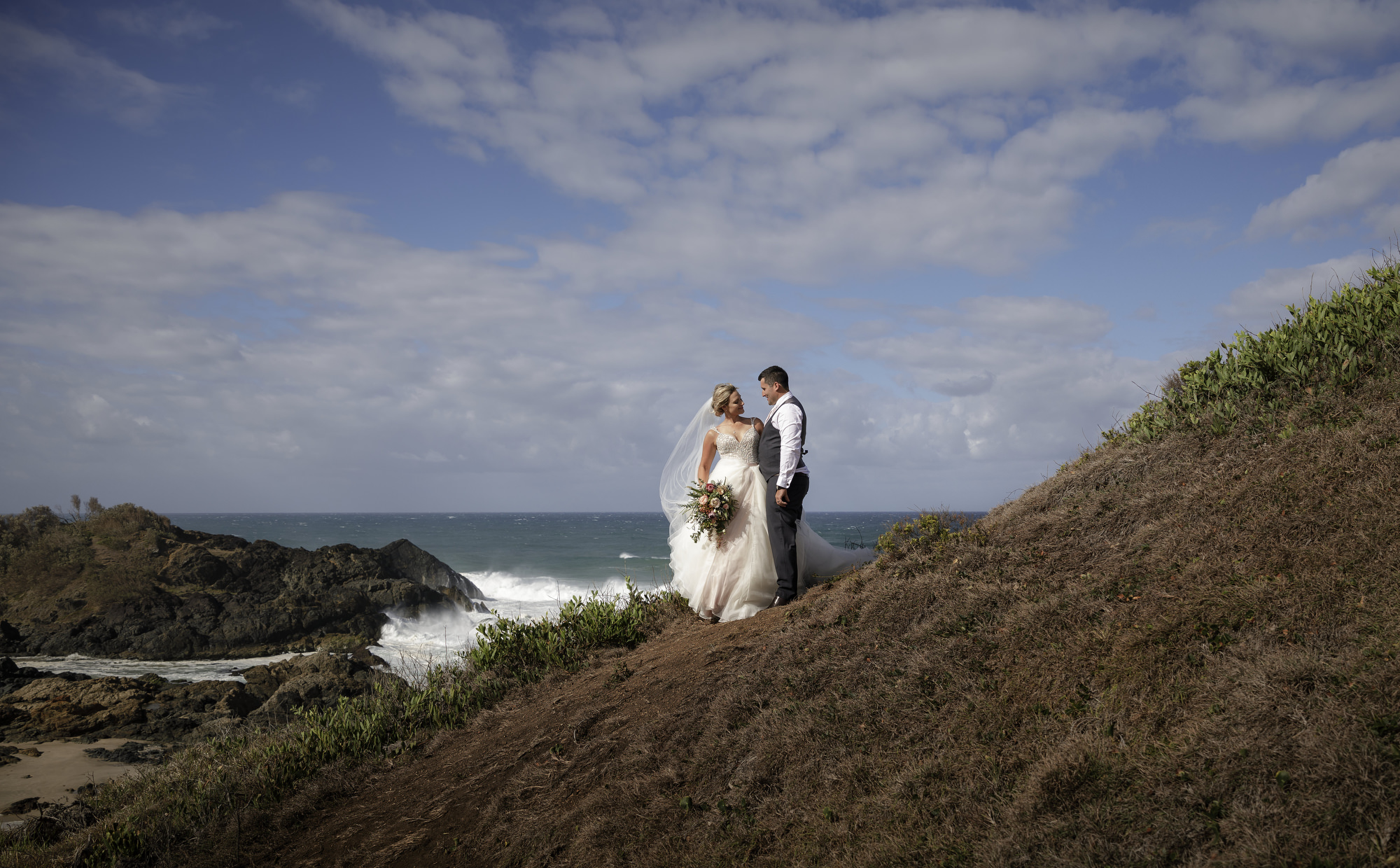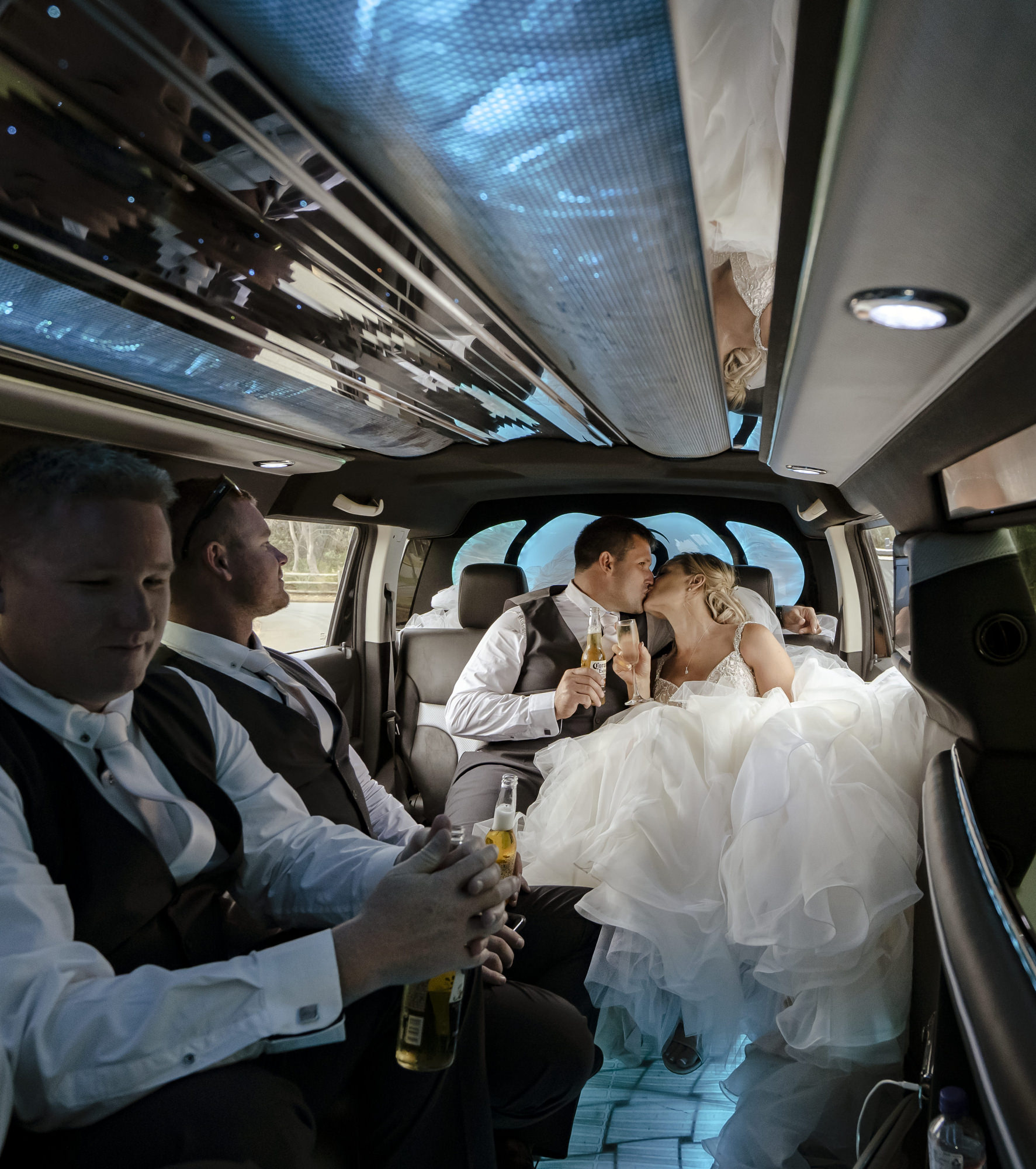 click image to go through to full gallery
Tell us about your Photographer / photos
We choose Thierry Boudan photography for the reason that from the first moment we sat down and meet with Thierry he made us feel comfortable. On the day Thierry and Wayne were amazing, from helping Katie get her dress on properly to help fixing her makeup there was nothing the couldn't or didn't do for us. At one party for photos our wedding car could get there so Thierry made it happen by driving us in his car to the location to get our perfect wedding photos. The night of the wedding Thierry and Wayne edited a photo and created thank you cards for our guests, when Thierry brought the photo over to show us for our approval Katie and myself were speechless! Thierry and Jasmina were so professional from the very first contact with them and made everything so easy and simple.
Brides Name
Katie Allen
Grooms name
Jeff Allen
Ceremony Venue
Sails Resort, Port Macquarie
Reception Venue
Sails Resort, Port Macquarie
Catering
Sails Resort, Port Macquarie
Celebrant
Margo Smith
Theming and Event hire
Jacqui - Queen Bee Styling
Transport
Hastings 5 star limousines
Flowers
Wauchope Colonial Florist
Wedding cake
Fika For Days, Port Macquarie
Stationary and bonbonniere
Soupcan Stubby Holders
Wedding gown
Morilee by Madeline Gardner - Newcastle Bridal House
Bridesmaid Dresses
Portmans
Suits
Ken Lane Menswear - Maitland
Wedding engagement rings
Michael Hill Jewellery and Kavalri Jewellery
Hair and Make up
Hair- All Dolled up, Port Macquarie Makeup - Adore Beauty Therapy, Port Macquarie
Entertainment
GenR8
How did you meet?
We meet each other while out in town onnthe October Long weekend 2016 at The Delany, Katie's friend and my friend started talking, and I went over and introduced myself to Katie and she introduced her self back, the music was so loud I thought she said her name was Haiti. I offered to buy Katie a drink, Katie's reply was she can buy her own drinks. Eventually I brought her a drink and we spent the night talk and drinking and dancing. I thought across the night I had got Katie number but never did. So as it was 2016 Facebook stalking was the in thing, but my only problem was I thought her name was Haiti and had no last name. I had no success finding Haiti. I then stalked the friend and looked at who her friends were, I eventually found this girl called Katie, I then realised why I couldn't find her on Facebook. I eventually messaged Katie on Facebook and we meet up again. We started dating and a month later we were In a relationship together.
How did he/she propose?'
While away on holidays in QLD I (Jeff) had already decided to ask Katie to marry me, Katie had organised for us to go out for tea to a nice steak house, but that day we got a parking ticket and Katie no longer wanted to go out any more since we had to pay for the parking ticket. I took Katie and my daughter down onto the jetty where we were staying and asked her to marry me, Katie obviously said yes and cried, we spent the night celebrating with my brother and his family and calling our family and friend to tell people of the news
Tell us about the wedding dress?
I have always dreamed of having a dusty pink wedding dress, I don't like lacy dresses and had never worn lace in my life so why start on my wedding day. I had this vission of what I wanted for my wedding dress like all women do. the search began like all brides on the internet and in magazines. Nothing really excited me. I booked appointments in at a few bridal shops in Newcastle. I explained I wanted a dress in pink, NO lace and with straps as I didn't want to keep pulling my dress up all night and also nothing too fitted and it had to have bling bling bling, and a train but not a huge train and did I mention it had to be pink . Most of the sales assistants laughed and said good luck, one lady said you need to get this pink out of your head it's not done they don't make dresses in that colour. As you can imagine I was feeling a bit deflated as what I had pictured would not be possible. I walked into the Newcastle bridal house I told the friendly sales assistant "Emily" what I desired, I could see her mind ticking over. she said "do you trust me" I said yes of course. She then proceeded to pull out all these random dresses to try on. As I was trying it on she would say what do you like about the dress? in a few cases it was nothing at all, some was the bodice and others were the skirt, but none of them were pink. She said I now want to show you something in this magazine. It was my dress, the one I had imagined all my life and it was perfect in everyway. The Newcastle bridal house did not have this dress in stock but we tried to Color mach the pink to some sahes. I just knew it was the one. So looking back on it now I bought a wedding dress from a magazine. When it arrived in the shop I had all the sales assistants so excited to see the dress on and some of them had even come in on there day off to see it on me as it was something so different. I took a gamble but it certainly paid off, it was like it had been design just for me. It was perfect in every way.
Tell us about the ceremony?
We had two locations to pick from on the grounds of sails Resort, one was the point and other being the lawn area. Both were absolutely beautiful but the wind made it impossible for us to be married at the point. A couple of hours before the ceremony the dark clouds rolled in and we had a shower, the weather cleared and the stylist set up on the lawn. The ceremony setup was everything and more then we had dreamed of. Everything went perfect. It was amazing. Some people sat in the chairs and some people stood and surrounded the bridal party.
Tell us about the reception?
The Cape Ballrom at Sails Resort Port Macquarie is an amazing room with large floor to ceiling windows giving you an amazing view of the marina at Port Macquarie. We Katie and myself were introduced into the room it was perfect, our stylist Queen Bee had done an amazing job. Our family and friends clapping and whistling we felt like we were floating. The food was amazing and the drinks were cold. Katie's and my plain was to get the cake cut and get the speeches done so we could have the party of our life. The speeches were sentimental and hilarious. We then slowed danced together to Perfect while everyone watched us float around the dance floor, totally in love. Everyone then got up and joined us to I Can't Help Falling In Love. The band kicked in and everyone partied till the end. It was amazing and perfect and everything Katie and myself could of asked for
What was the most memorable moment?
The most memorable moment for us was holding each other's hands and saying I Do in front of all of our family and friends, and also they amazing party we had celebrating with them.
Please list the menu and meal details:
After Ceremony, Grazing station Entree, Slow cooked pork belly with marinated cucumber and mustard miso & Butternut squash and goats curd ravioli Main, beef tenderloin, potato gratin green beans in jus & Corn-fed organic chicken, carrot purée, wilted greens chicken jus
Songs played
Walking down the isle: Say You Won't Let Go, Matt Johnson & Jaclyn Davies Present bride and groom: Can't stop this feeling, Justin Timberlake Entrance To Reception: I gotta Feelin, The Black Eyed Peas First Dance: Perfect and I Can't Help falling in love Farewell Circle: higher and higher, Jimmy Barnes
Did you have a budget and were you able to stick to it?
Yes we had a budget, and we came in under budget
What was your colour theme and colour palette if applicable?
Navy blue and blush pink
What was the total cost of your wedding (excluding honeymoon)?
$30,000
What did you do for your Hens & Bucks Parties?
The bucks show was held at Lemon Tree Passage. The week of the bucks on Thursday it was a really windy day in the area which brought powerlines down at Campvale near Raymond Terrace which started a large bush fire. Roads were closed to Lemon Tree Passage and things were in doubt. The bestman is a member of the RFS who was out fighting the fires and myself the groom a retained Firefighter with NSW Fire and Rescue also otr at the fires. Eventually late Friday afternoon the fire was under control and roads were opened, the message was sent that the party was still on. We sat around the beside the water drinking beers and talking, hitting golf balls into the water, all while the groom wore a lovely little sexy firegirl out fit.
Where did you go on your Honeymoon?
Hawaii, Waikiki Beach
What did you do for your Hens & Bucks Parties?
For the hens party, it was all a surprise I didnt want to have to organise anything so I left it up to my bridesmaids. We All descended Nelson bay in Port Stephens for the weekend we started with a nice subdue family lunch then we had a holiday rental organised for all my guest to be accommodated. They had organise drinking games a Party planer came and set up and also had a lot of games as well and too my surprise my bridesmaids had organised a firefighter stripper to set off the night. We then all descended on the county's club and danced the night away. Everyone had a great weekend